Written By: Daniel Pasoff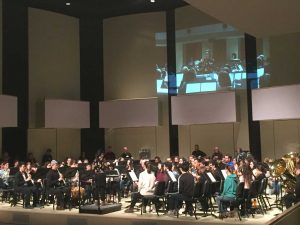 On Saturday March 2nd, the Ontario Band Association hosted its 25th annual Conductor's Symposium at York University. Each year the OBA brings in a master in the conducting field to speak about certain aspects about conducting. Each year is something totally different; sometimes they talk about different repertoire, or specific aspects of the actual craft. Every year, though, it is just as exciting!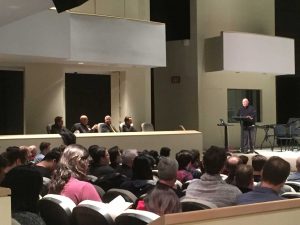 In honour of the 25th anniversary of the symposium, the OBA brought in the first clinician used for this symposium: renowned conductor Eugene Migliaro Corporon, the current conductor of the Wind Symphony and the Director of Wind Studies at the University of North Texas. His ensembles have performed all over the world including at Midwest International Band and Orchestra Clinic, Japan Band Clinic, and the Conference for the World Association of Symphonic Bands and Ensembles. He has been awarded multiple awards including the International Grainger Society Distinctive Contribution Medallion, the Phi Beta Mu International Band Conductor of the Year Award and the University of North Texas Student Government Association Honor Professor Award for teaching excellence.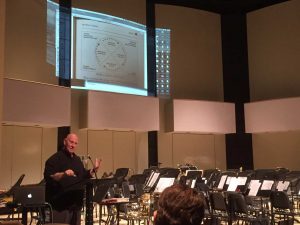 The symposium runs in about the same format each year. The day starts with the clinician speaking, sometimes using the York Wind Symphony to demonstrate an idea or exercise and sometimes the ensemble just gets to listen to the clinician. In this year's case, those of us in the ensemble got to listen to Professor Corporon talk for the morning. The second half of the day had aspiring conductors and music teachers get up on the podium in front of the massive band consisting of the York Wind Symphony, Wind Ensemble and a number of the attendees who brought their instruments. In the short amount of time they got on the podium, the attendees got to conduct a brief section of the music and then get some one-on-one advice from Professor Corporon.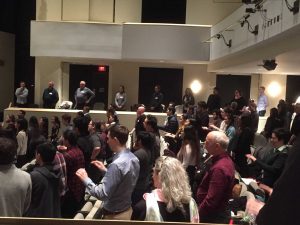 Professor Corporon discussed many topics specific to conducting gesture and music-making as well as rehearsal techniques. This ranged from different activities you can run in rehearsal to a short activity on how to actually conduct for those in the audience who weren't as knowledgeable and for those who wanted to get back to the basics. Overall, the day went really well, the symposium had a huge crowd and the conductors who got to get on the podium were great.
This isn't an event that you want to miss out on!  Hope to see you at next year's symposium!