Written by: Sadie Cahill
A dance major's guide to packing for a successful day!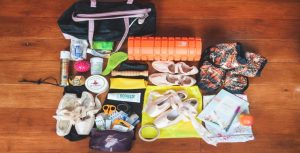 As a dance major, your day can not only consist of plies, tendus, and double bounces, but also long hours in lectures and the library. Having a variety of activities planned throughout the day can be challenging when you're out of the house for a long time, but this guide will help you better understand what to pack for your day so you can succeed physically, and academically!
Let's get packing!            
Footwear
2. Fitness Accessories
3. Hair Accessories

4. Refillable Water Bottle and Healthy Snacks
5. First Aid Kit
6. Miniature Sewing Kit
7. Laptop/Charger
8. Pencil Case
9. Notebook
10. Deodorant
11. Sweat towel
12. Warm Clothes
13. Planner