Written By: Brooke Dalton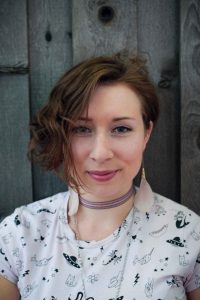 Career and Creativity Path
Where some people are discouraged by the questionable "progress" our society is making, Theatre alumna Collette Radau BFA '17 finds her purpose and inspiration in looking critically at moral grey areas surrounding humanity's path. The theatre she is passionate about creating examines what our society deems as 'good' from all angles.
An Alberta-Born, Toronto-based freelance theatre artist, Collette graduated from York University's theatre studies program in 2017. Then and now, her focus is on new play development and devised work which includes performing, dramaturgy, playwriting and directing.
Her credits include co-directing and dramaturging fellow York Alum Curtis te Brinke's Midnight, Toronto, a 'quarter-life crisis' apocalyptic play set to original indie music for the 39th Rhubarb Festival.  She also directed A Trifle, a short queer comedy that premiered in A Kitchen Sink Drama, which sold out all of its performances at the 2018 Toronto Fringe Festival. Collette's other credits include dramaturging shows for the Edmonton Fringe Festival, the New Market National Play Festival, and Paprika Festival and performing in Nuit Blanche and the Luminato Festival.
Collette is one of the editors of the PLEDGE Project, a Playwrights Guild of Canada database of plays by Canadian women that is intended to make diversity and gender equity in theatre more accessible (www.pledgeproject.ca). She's recently worked on archival projects for Theatre Passe Muraille's 50th Anniversary and had the opportunity to mentor under Associate Artistic Director and Dramaturg Stephen Colella at Young People's Theatre.
Up next, she is currently working on her first ever full length solo show. In this upcoming piece she is incorporating elements of comedy, satire, and politics.
University Experience
Collette is particularly grateful to her professor Judith Rudakoff and credits much of her current success to Judith's Playwriting and New Play Dramaturgy and Contemporary Canadian Theatre courses.
"Judith helped connect us with theatre professionals that we were genuinely interested in, by assigning us research and interviews. This was so helpful for me because it gave me a really good working knowledge of Toronto's theatre scene and I felt more comfortable reaching out to professionals and building a relationship with them."
Those projects ensured Collette graduated with the beginnings of an industry network, experience in making new connections and a good idea of the companies and professions whose creative goals aligned with her own.
When Judith Rudakoff was on sabbatical, Collette got the opportunity to work with Andy Cheng who covered Judith's courses.  "Witnessing a different instructor teach the same topic gave me a new perspective that helped make my practice my own and also helped me realize the importance of meeting and learning from other professionals in the industry. Working with Andy, who is both an actor and a dramaturg, opened my mind to the idea I didn't need to limit myself to one type of theatre career."
Words of Wisdom
Having benefitted so much from mentorship already in her career, Collette wants every student to start reaching out to artists and companies that they find exciting. "You don't have to wait until you've graduated to start focusing on your professional career." Another tip she gives is to try to see a show every week. "Seeing what's really going on in the theatre scene will not only help you do better in your studies and give you more real-life examples to draw upon, but it will also help inform your own work as a theatre artist and give you a better working knowledge of the industry. You'll begin to notice what artists and companies you're interested in, what you like and don't like, what works and what doesn't work, and what's possible on stage."
Giving herself permission to fail has also allowed her to step outside her comfort zone and accelerate her creative growth. "You have to be to willing practice many times and get rejected or fail many times in order to get better at your craft. The first show you ever make will probably not be your magnum opus, and it shouldn't be. And once you take that pressure off of yourself, growth can begin. That's how you make way for the good stuff."
Living with chronic migraines as well as multiple anxiety and mood disorders, Collette is a strong advocate for self-care and is proof that self-awareness is important for collaboration and productivity. "You have to stand up for yourself and let your coworkers/collaborators/instructors know when you need breaks or accommodations or have to sit something out. It's something that's still really tough for me because one of my biggest fears is letting people down, especially when I feel like they are counting on me. I always want to work hard and do the best work that I can, but I know I can't do that without taking care of myself first."
You can follow Collette's work on her Instagram, @coco.chella