Written By: Aida Oquendo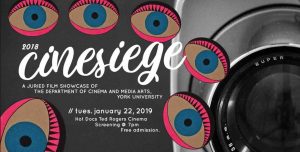 Who's excited for CineSiege? I know I am!
CineSiege is a special event for all Film Production students which features a juried selection of shorts chosen by leading experts in Canadian Film and Media Culture. The winning productions are picked from a shortlist, nominated by faculty members, from all the films produced by students in all levels of the program.
The nominated films include fiction, documentary and experimental works. Those chosen for CineSiege are honoured for their exceptional achievement in the art and craft of film and media production. The categories are: Best Fiction Film, Best Alternative Film, Best Documentary Film, Best Screenplay, Best Cinematography, Best Editing, Best Sound, and Best Production Design. There are also awards for outstanding First and Second Year Films.
Here are the nominated films that will be screened at CineSiege:
Alternative:
An.ec.dote: Blurring the border between documentary and alternative, An.ec.dote achieves an honest portrayal of coming to terms with the imminence of death.
Imposition of Consciousness: An immersive piece engaging the audience in a visceral experience using a mixture of audio-visual surrealism and realism.
Pulse: A man struggles to live in a hyperactive city.
Seed: A daydream perspective film, reflecting on simple elements of everyday life and how we perceive them as special.
The Shirley Card: An exploration of how colour film stocks register darker skin tones versus lighter ones and the bias that permeates the film and television industry.
The Waters: An exploration of the parallels between schizophrenia and shamanic practice, shown through the alternate reality that is shared by two characters living in contrasting societies.
Documentary:
Entomophagy: A look into Cambodian tradition practiced various ways.
Eva: In a poetic experimental documentary, a young woman questions a cancer survivor to understand and communicate with the mother she lost as a child.
Howard: Howard, a bingo loving senior, lives in the same nursing home as his mother who has dementia.
The Last Guide:

 After a decade of modest fame, Frank Kuiack, the last fishing guide in Algonquin Park, reflects on his darkened past and the redemption that followed.

Losing Hampi: The story of Hampi and its growing tourism industry, plagued by bureaucratic corruption and religious struggle.
Moving Charity: A quiet suburban neighbourhood finds itself surrounded by controversy when a 7-meter tall chrome cow statue appears.
The Tiny Seahorse: When our waters are in danger, a tiny seahorse emerges. What are we doing as humans to help (or stop) him?
Fiction:
Bedlamite: A young boy's disturbing behaviour escalates.
Canaan: It is almost Christmas. Mr. Jiang's wife won't be back this year. On top of that, his daughter suffers from a leg injury. They have nothing to do and nowhere to go.
Employee's Mask: Two employees who feel unappreciated and mistreated try to sabotage their company before leaving it.
Milk: A 7-year old girl must choose between sweet ignorance and bitter reality.
Morendo: After the traumatic loss of her daughter, Naomi Vaughan is given the chance to leave her past behind.
Mrs.: A mother comes to terms with her daughter's sexuality when she announces her engagement to her girlfriend at a family dinner.
Scumwave: Two violent youths are forced to deal with the consequences of their actions.
Teen Dream: When Myla and her best friend orchestrate a romantic encounter with two older boys from school, they're forced to decide whether they are ready for "love".
The Way Home: On a traditional family reunion day, a lonely man meets his little partner in a strange city and finds the way home.
CineSiege is happening this Tuesday, January 22nd, at 7pm at the Hot Docs Ted Rogers Cinema.
See you there!