Written By: Brooke Dalton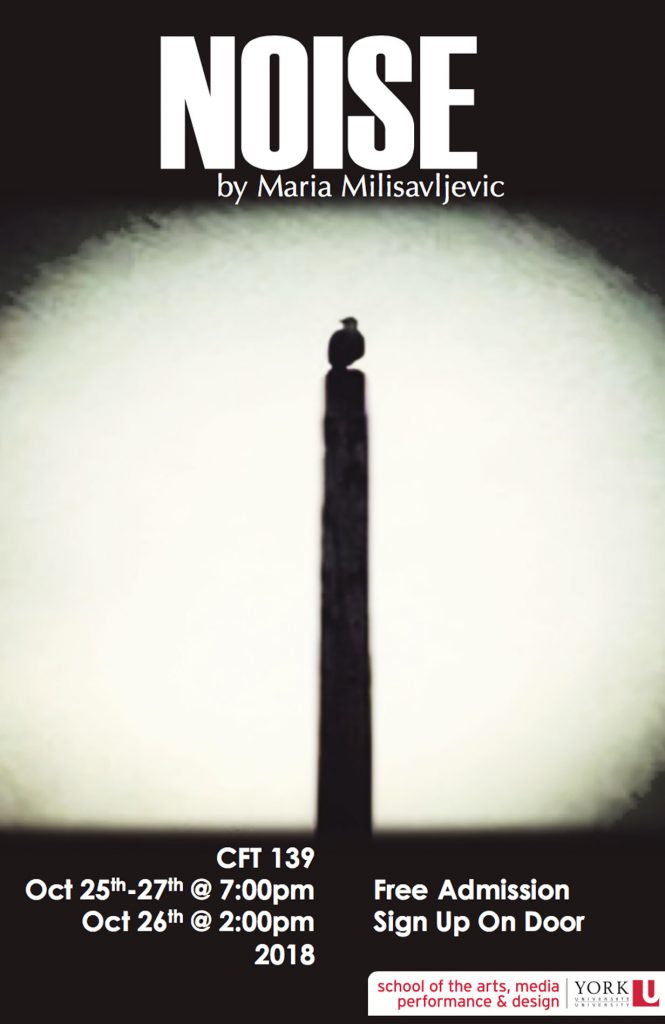 The semester is flying by with Halloween almost upon us, and everyone has been working so hard; why not take an opportunity to breathe and take in some Theatre at York? I had the opportunity to talk to Jayna Mees, an assistant director of the upcoming theatre production titled Noise, performed by the third year acting conservatory class. The play is split into two companies. Company one is directed by MFA directing student Lindsay Bell and assistant directed by undergraduate student Jake Heisler. The second company is directed by MFA directing student Margaret Muriel Legere and assistant directed by undergraduate Jayna Mees.
Noise by Maria Milisavljevic is an unconventional text that can be performed by an ensemble as small as three or as large as forty–maybe even more. The text doesn't have specific characters, and the only indication of a change of speaker is an indent in the script. This style gives lots of opportunity to both ensembles and directors to play and explore and truly be creators within the structure of the text.
Jayna explains that Margaret Muriel Legere's process with this text has been very based on her ensemble. The acting students are given the chance to create within this process. The actors explored in the dark with flashlights and were given specific objects to interact with at the beginning of the process, giving them tools to explore character. As time went on, each actor was asked to bring in three names their characters might go by and to eventually choose one, and then three gestures their characters might do which are now used in the play. At times, Margaret even interviewed the actors as their characters. This process offers  freedom to the actors and director to mould their characters and create backstories despite the text not providing that information. Because the play itself is structured like this, it's easy to see how every production of Noise is different–and not just different in terms of casting, design, or direction, but different in structure, and potentially even meaning. This particular production has a total switch of ensemble and directors halfway through: almost as if two different shows are happening in one, which is very exciting to see!
Noise explores themes of a post-apocalyptic society, the evil of humanity, forgotten forgiveness and the role of technology in this world. In Margaret Muriel Legere's ensemble, the actors have their phones with them on stage and routinely use them throughout the performance.
Come see Noise at York University, Room 139 in the Centre for Film and Theatre: Thursday October 25th at 7:00pm, Friday October 26th at 2:00pm and 7:00pm, and Saturday October 26th, at 7:00pm. Admission is free, but signing up ahead of showtime is highly recommended as there is limited seating. Sign up outside of Room 139 in the CFT.
This production of Noise has been dedicated to the loving memory of Carl Cachero, a wonderful classmate and beautiful person.