Written By: Chevon Gilzene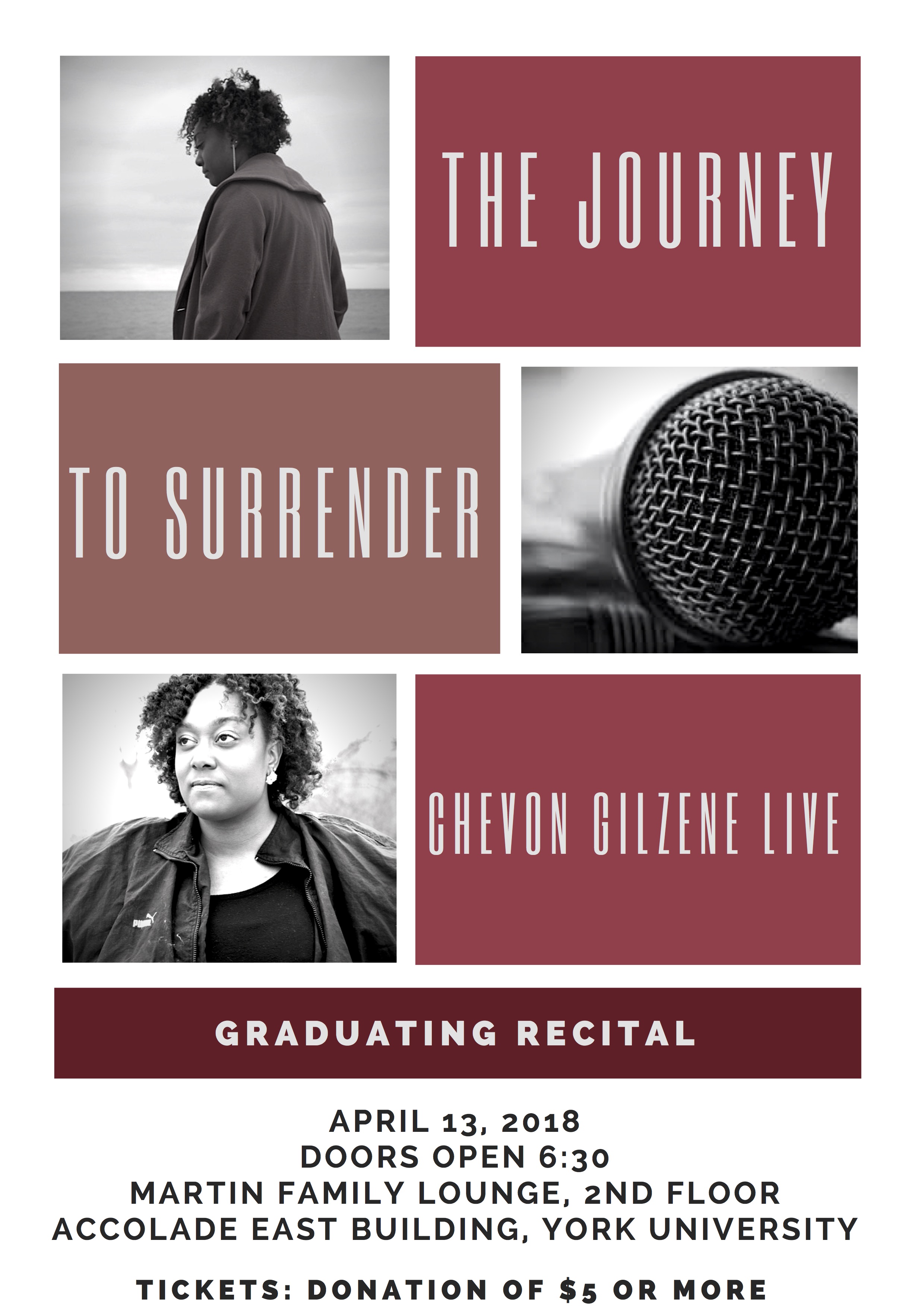 I like to think of the different stages and seasons in my life as a part of my journey. Both the good and the bad are there to make me grow. As my degree at York is coming to an end, I see opportunity to reflect on how much I have changed in the years I have been studying here. I went from thinking I wasn't creative to facilitating creative arts workshops, from admiring songwriters to being one myself, from being scared of singing in front of people to organizing my own graduating recital. This recital, which I have entitled "The Journey to Surrender", reflects how far I've come as a performer and a person.
This recital is being marked in 3 parts: production, song writing, and overall performance. I have intentionally chosen to be vulnerable in every detail of the recital; everything — from the marketing material, to the creative work that will be on display before and after the show, to my song choices — describes some part of this journey.
Creativity is the thread that connects all of the parts into one. The process of creating requires vulnerability because creativity is expression. Throughout this journey I have discovered just how creative I am. While experimenting with different forms of creative expression, I have seen a drastic change in my music. As it turns out, being creative outside of music has helped me to be more vulnerable and expressive in my music.  If there is anything I have taken out of planning this recital, it would be that creativity fosters more creativity. The more I opened myself up to different forms of creative expression, the more passions I have discovered and the more creative I've become.
My transformations over the years have changed how I view the world. In a way, this journey has caused me to surrender.  However, this surrender isn't bad; I am surrendering to vulnerability, to love, and to beauty.
I hope you'll join me in the performance of my journey, and I hope that my expression will allow you to open up more creativity within yourself that you have yet to explore.
For more information on "The Journey to Surrender" click here.