Written By: Liana
Hi, I'm Liana! Every month I'll be taking on a new art form that I'm interested in, and I'll be working though the process of teaching myself how to do it. This month I'm teaching myself embroidery!
Embroidery is essentially the embellishing of fabric (or paper, or … anything) using a needle and thread, and sometimes also beads and sequins. Although nowadays the process is usually done using sewing machines and other, more efficient technologies, people still do it by hand as well. Thanks to social media, embroidery is having a bit of resurgence in the modern art sphere. This resurgence can be attributed to embroidery's kitschy look, but also must be attributed to the female artists who are reclaiming the stereotypically feminine pastime to create conceptual feminist works of art.
If you need some inspiration, here are a few Instagram artists that I am a big fan of: @crossstitchcult @vickinerino (the kulls!) @milky.tea__ @zoebuckman (her work 'Champ') @westcozy @tinycup_ @stitchezwithattitude @times.new.romance @hanecdote
STEP 1: Buy your materials
All the things you'll need to buy for the embroidery are pretty cheap, and if your mum is half as much of a crafter as mine, or you're half as much of a hoarder as I am, then you'll have some of these materials lying around your house. You will need:
• Embroidery hoop (Michaels has these, and you can find them at most art/craft stores)
• Embroidering thread (you can buy a pack of colours at Dollarama, or if you want to invest slightly more and get a LOT nicer thread, go to Michaels!)
• Fabric (I just found some plain white cotton fabric at Walmart. Make sure it is relatively thin and the threads are far enough apart for you to your needle to go through, but the fabric's threads should be close enough together to hold your design in place.)
• Embroidery needle (keep in mind that the threading hole has to be big enough to fit several strands of your thread through it!)
• Scissors
• Fabric to use to seal the back of the embroidery hoop (kind of optional)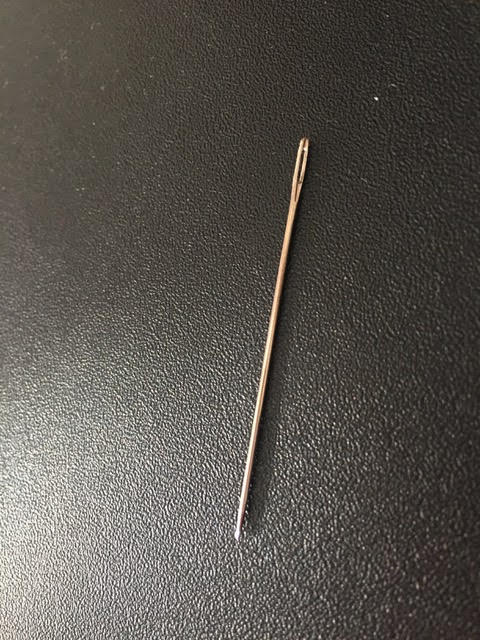 STEP 2: Create a design
When I took this project on, I had a couple Secret Santa events coming up for the Christmas season. I took a gamble and thought maybe I could personalize an embroidery design for one of the lower budget gifts I had to give. For one of the Secret Santa draws, I got a person in my friendship group who I didn't know too well, but the most distinctive part of our friendship is that she lets me pet her dog Evie… and she LOVES her dog Evie. So I thought I would personalize an embroidery hoop of Evie that she could use as a Christmas ornament.
I found a cute geometric design in the shape of a golden retriever online, so I decided to embroider my own version of the picture. This is a rough drawing on paper that I used to trace onto my white embroidery fabric for lines that will be my sewing.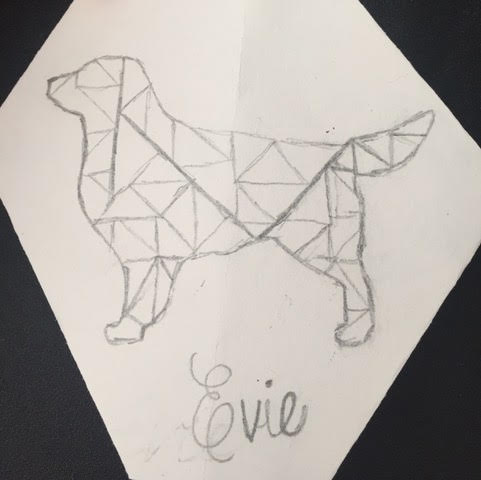 STEP 3: Choose a colour palette
I wanted to adjust the colour palette of the original image I saw online since Evie is a beautiful golden retriever. I chose some different hues of gold, and I added some rose gold in there (it is ALL the rage right now, so, duh) and because Evie is usually wearing some form of pink.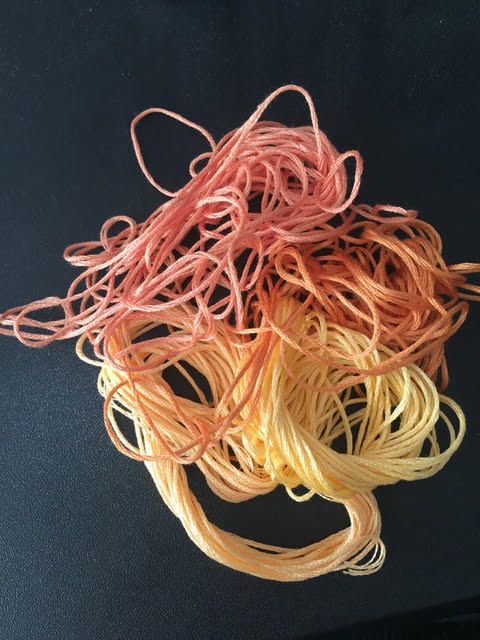 STEP 4: Learn your stitches
It's a lot easier than you think! I watched this Youtube video to figure out how to actually do the sewing thing.  Then I secured the fabric into the embroidery hoop and tried not to panic!
I decided I would use the satin stitch to do the filling of the dog, because I was trying to create solid blocks. With that stitch in mind, and my sketch to guide me, I started doing the thing!
It took a while. And yes, I made plenty of mistakes.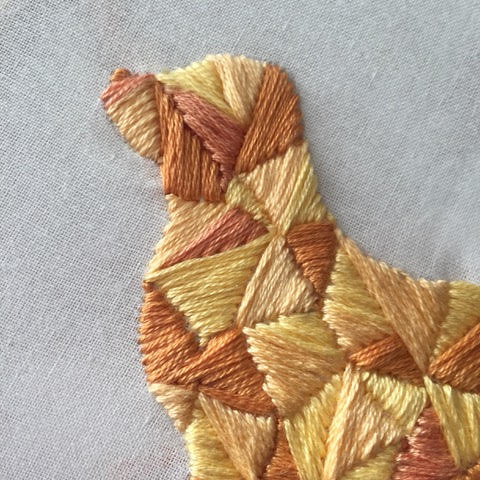 STEP 5: Add a name
Not that my image didn't look like a dog (I think/HOPE it does look like a dog), but I wanted to personalize it a bit more and add Evie's name! I sketched out a fancy font I found online underneath my work so far, and used the split stitch to create a consistent running line through the letters.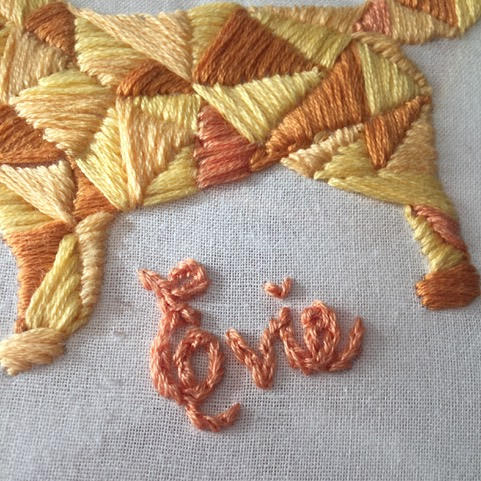 STEP 6: Seal the back
If I was planning to gift this, I didn't want anyone to see the evidence of the mistakes I had made… which were very clear from the back of the fabric! I couldn't figure out which stitch to use so I watched this video on Youtube instead. This helped me a lot. Cut your embroidered fabric with plenty to spare. Cut a circle of your backing fabric to the size of a little bit larger than your hoop. When you sew the sides, push the fabric on the edges into the centre of the hoop so that you hide the excess fabric.
I made a few folding errors but this is what I got in the end: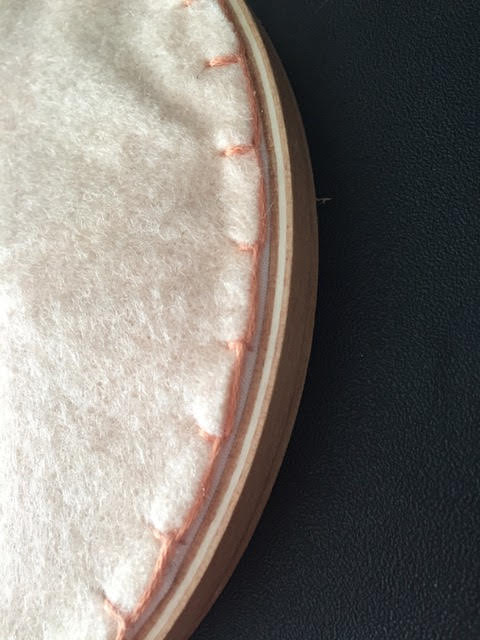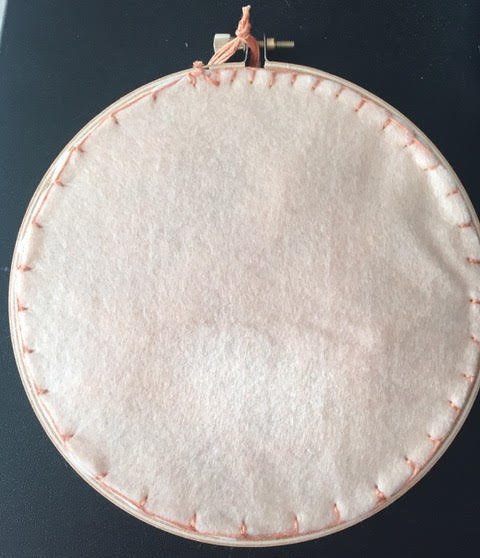 I tied a little hoop of excess thread through the top knob so it would be possible to hang the hoop on a Christmas tree branch!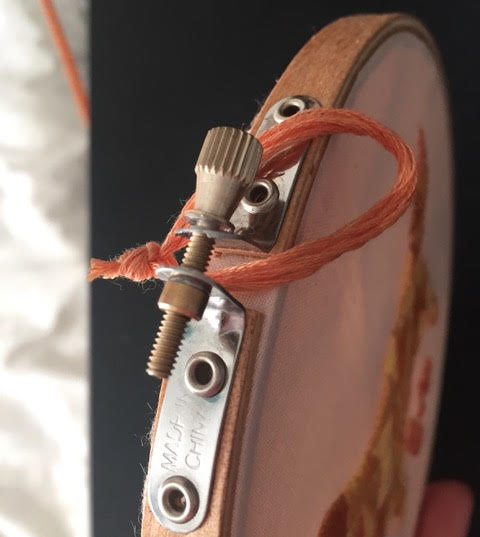 Aaaaaaaaaand this is what I finished with!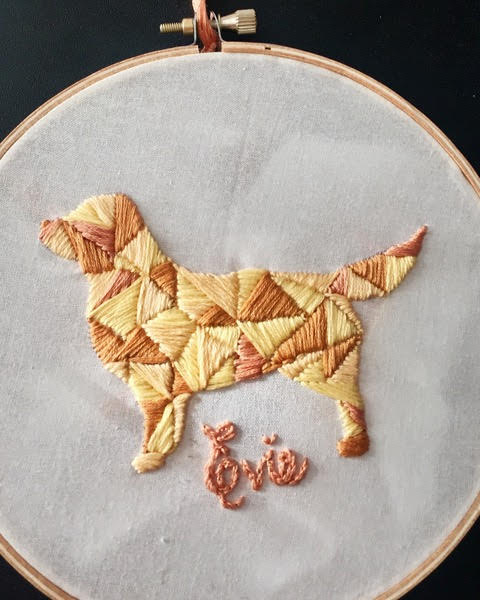 I'm really proud with the end result! 10/10 would embroider again. It was a lot easier than I thought it would be, and way less intimidating that it looks. Best of luck in your own embroidery adventures!