Written By: Liana Shaw
Hi, I'm Liana! Every month I'll be taking on a new art form that I'm interested in, and I'll be working though the process of teaching myself how to do it. This month I'm participating in Inktober!
Inktober is something that artists participate in worldwide during the month of October. Creatives challenge themselves to make art everyday. People use different mediums, but the most popular form that I've seen on social media, and the one I will be doing this month, is drawing. I'm hoping to introduce a creative habit into my daily routine, and I've also always been impressed by people who can find time to write (and not just type) every day, so I thought this would be a perfect opportunity to explore!
STEP 1: Find a Journal
I've had this journal for a while now; I use it on long train rides and flights to draw. Funnily enough, these boring and monotonous times are the only moments I ever really find that I have the inspiration to draw. I was hoping that the travel and wanderlust that is imbued in these pages would encourage me to find the inspiration I needed and draw. (Also, the opportunity to look sophisticated while using this fancy pen I borrowed from my dad is encouraging in itself!)
STEP 2: Journal. Every. Day.
October is definitely my favourite month of the year, autumn is my favourite time, and Halloween is my favourite event of year! This seeped into my drawings sometimes, usually making them a bit spooky!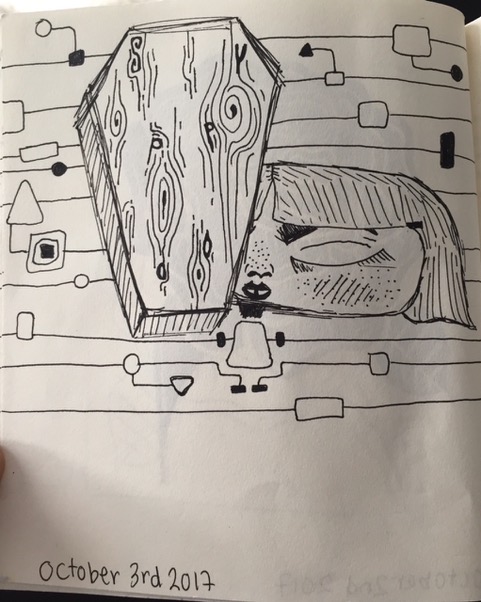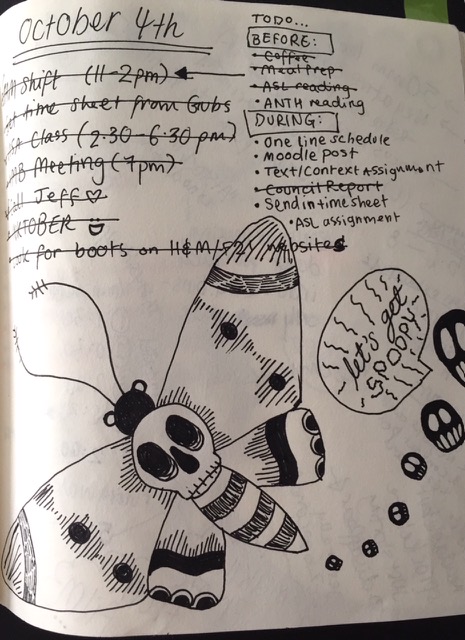 STEP 3: Realize you probably won't draw every single day.
I usually ended up forgetting to draw on weekends, since I was preoccupied by plans with friends and family that were supposed to relax me, in the same way that drawing every day was supposed to relax me. I also missed a few days of drawing because I loved the fall weather so much, so I tried to spend as much time outside as possible before it gets too cold!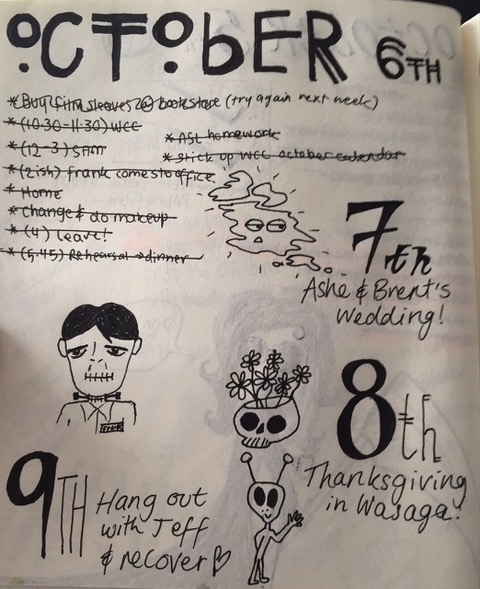 STEP 4: Instead, realize you can use this time to plan your days out better.
During the first few days I wrote in the journal quite regularly. However, the habit of allotting time to sit down and draw everyday tempted me to use this time to plan for the next day. My weekdays can get pretty hectic sometimes, since I play a several different roles in my on-campus life, and I like to keep my weekends as free as possible, and all of that requires planning.
This process was pretty self-reflexive for me; I found that the act of planning everything out for the next day helped me get over a lot of stress that I was experiencing in my day-to-day life. The act of writing out all of my events, meetings, classes, work shifts, errands, and the school work I needed to get done helped me go to bed feeling prepared for the next day. Instead of worrying about the bigger picture, I started taking everything day by day.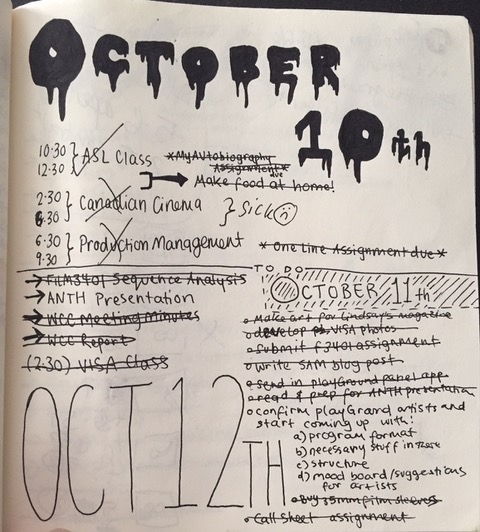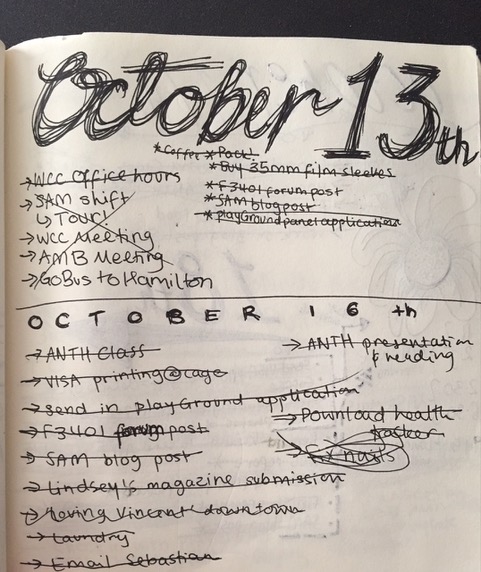 STEP 5: Find a middle ground between both!
Some people can do it, for sure. But I definitely didn't draw every day this month. Instead of drawing I ended up scheduling everything for the next day. Each page I did started to look like a little bit of drawing and a lot of to-do lists. I did still try to doodle a little every day though!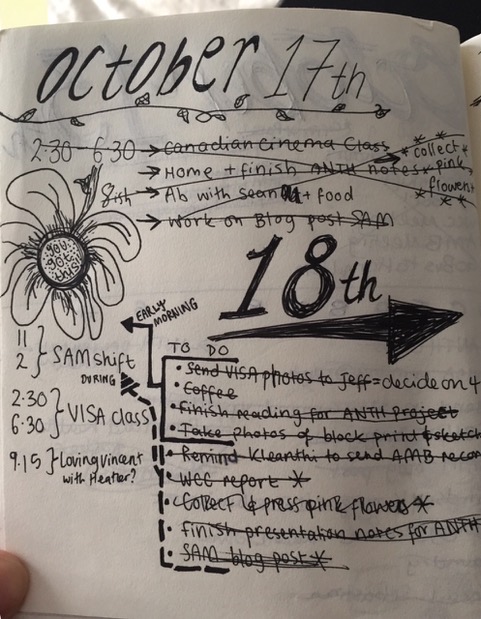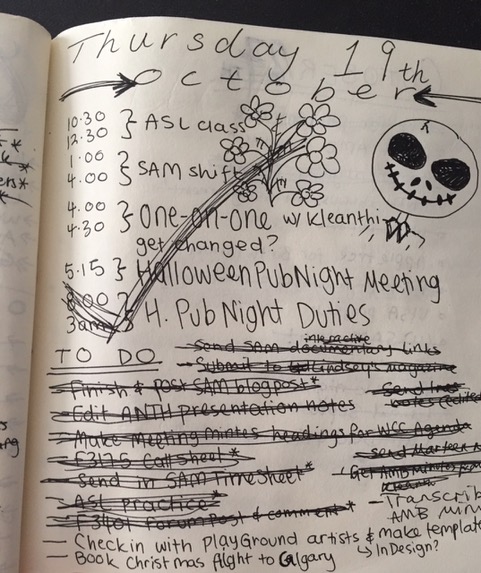 Some of my friends told me how terrible the month of October was for them, because of the constant due dates and business, but looking back on the experience, I think I was shielded from a lot of that because of my scheduled planning time. I'm the type of person who needs to be organized so this might not be necessary for some people, but if you're like me, I would definitely recommend trying this!
A few people I know started showing me their Bullet Journals, so I think this subconsciously affected my approach to Inktober and I ended up creating a little hybrid of both! I'm actually still writing all of these daily planners out in my journal even after the month of October! Here is what my monthly view of November looks like: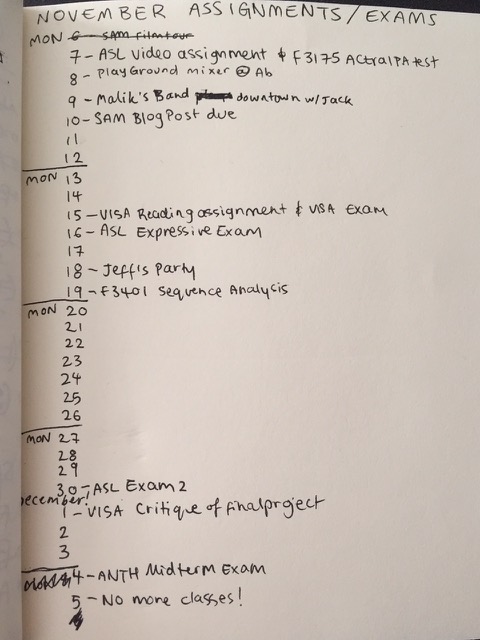 Hopefully I've inspired you to try out Inktober next year,  or even start a little Bullet Journal right now to get you through these last few weeks of class! Happy creating!