Written By: Lindsey Thompson
From the studio, to lectures, to council meetings, to rehearsals, to work… us dancers carry A LOT of things with us in a day!  How do we possibly do it? Different dancers have different methods, but I'm going to uncover what I keep in my dance bag on a daily basis, and how I manage to bring it all with me.  Hopefully it'll give you some ideas and help you with your own bags!
First off, I don't just carry one dance bag – I actually carry two bags with me to help keep things divided. I have a small over-the-shoulder duffle for all things dance related, and a mini backpack where I store my laptop and notebooks. Having smaller sized bags prevents me from over packing, which is definitely a skill that is necessary when you're moving around all day. I also have a locker on campus where I can store one of my bags when I don't need it with me.
My Dance Bag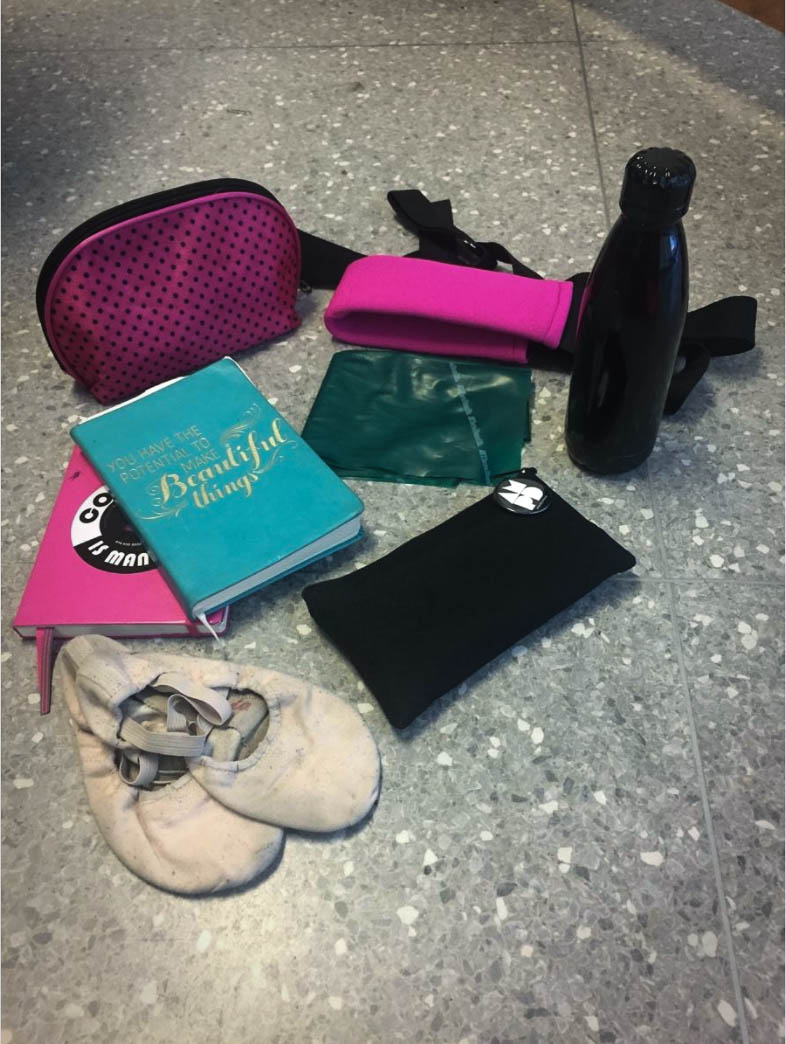 • Pink polka dot bag: First Aid Kit
• Flexi stretcher: Superior stretching and stretching method! Perfect for warm-up
• Thera-Band: Full length elastic band for resistance training, also helps with technique during class. I put mine across my back and hold it in both hands during ballet. This really helps to activate my arms more!
• Ballet slippers: A necessity; I usually keep an extra pair of socks in here, too.  
• Bullet journal: My way of keeping my life together!
• Dance journal: I write down any corrections I get in class. Post-class reflections have really helped me solidify ideas I discover during class.
• Pencil case: Full of colourful markers and pens to keep my bullet and dance journals fun and playful!
• Water bottle: life necessity
*Additionally, I normally have a ball in my bag to help release my muscles, but I've recently lost it and am currently looking to buy a new one… Recommendations, anyone?
My First Aid Kit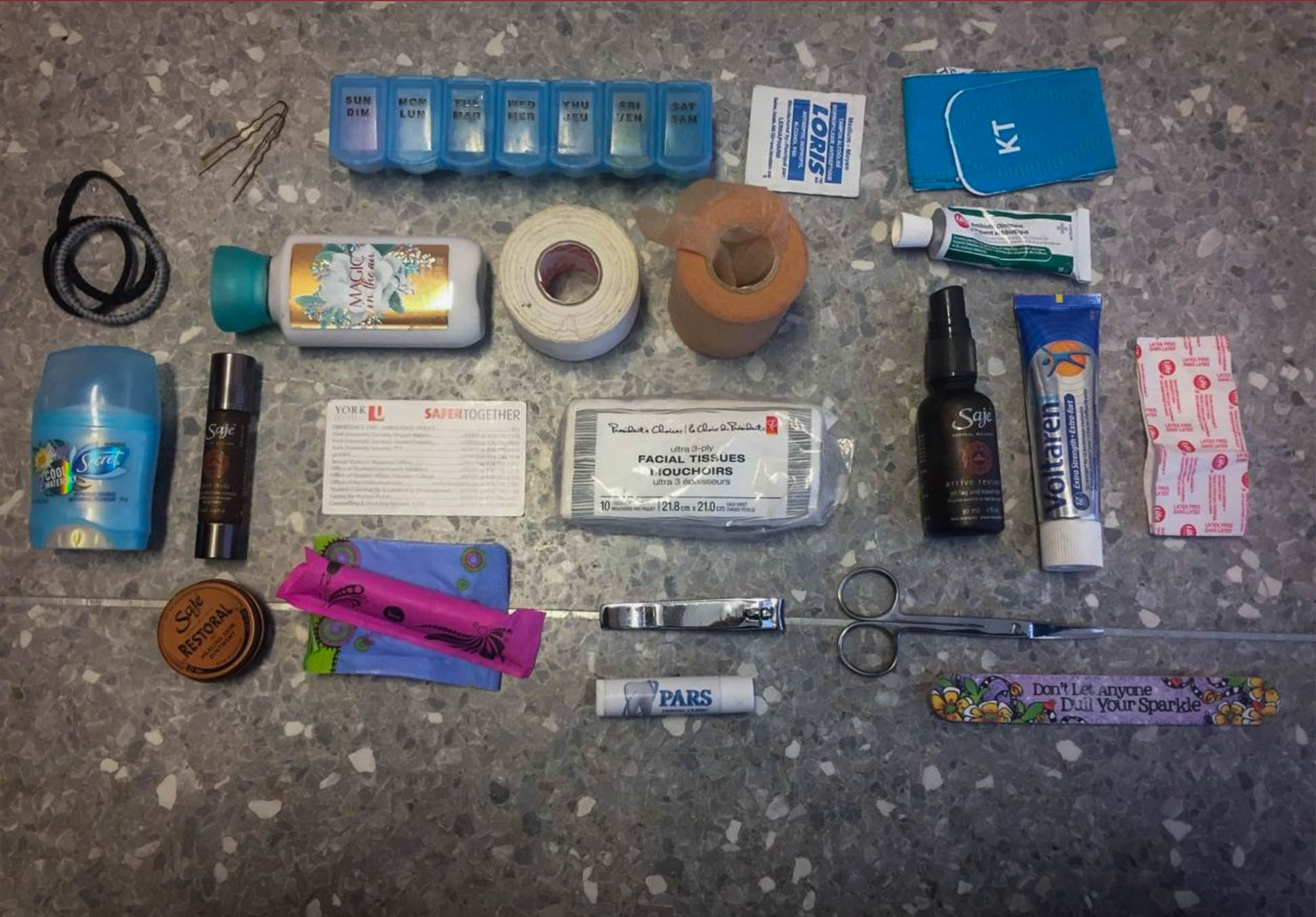 Hair elastics

Bobby pins

Feminine hygiene products

Body lotion

Pill case: Advil, tums, non-drowsy gravol, allergy medication, Halls, personal prescriptions

Athletes tape

Pre-tape

KT tape

Deodorant

Lotion

Kleenex

Alcohol swabs

Band-aids

Lip balm

Nail clippers

Scissors

Emery board/nail file

Polysporin

Emergency contact card

Saje products that I enjoy: "Arrive Revived" (alertness spray), "Quick Study" aromatherapy blend to help with focus, and "Restoral", which helps with skin irritants. 
My Mini Bag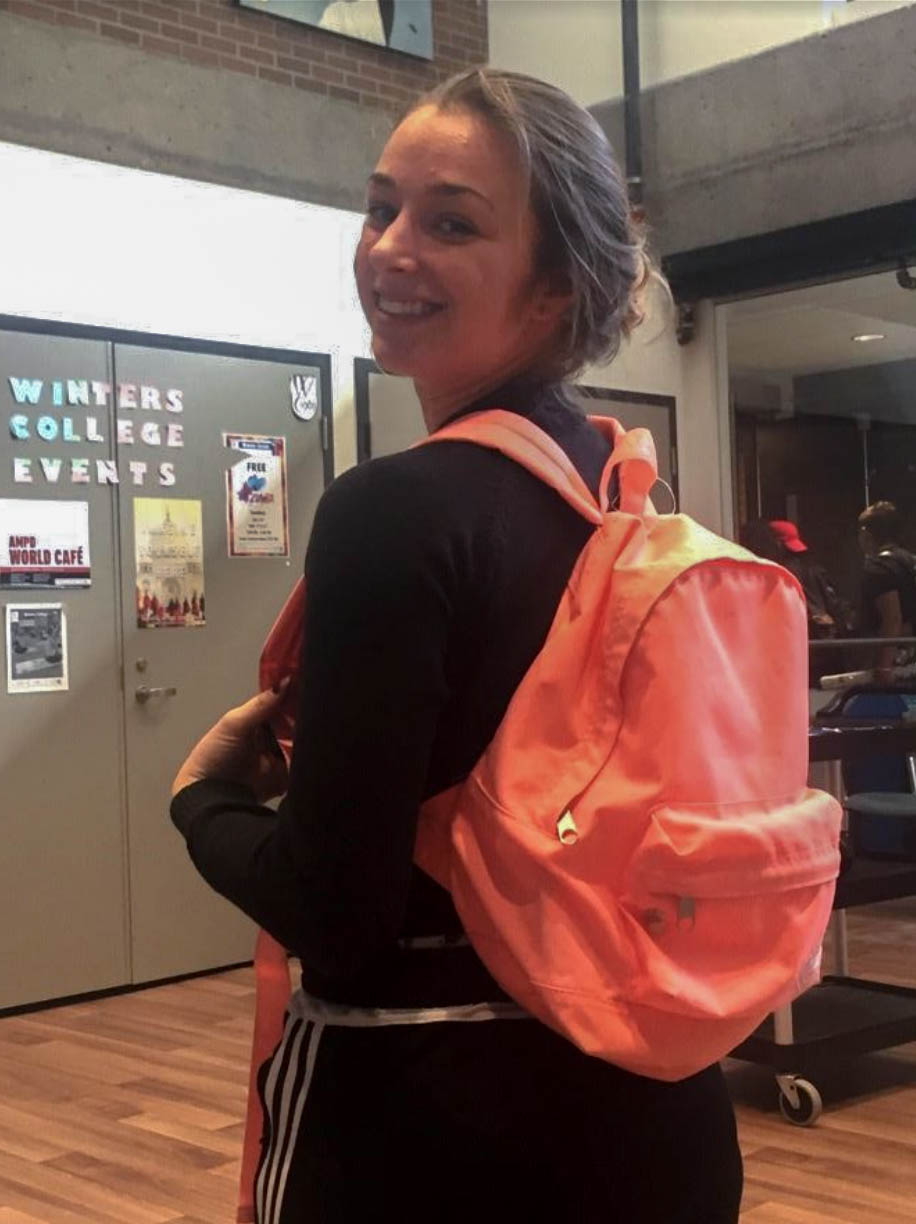 1.  Laptop
2.  Lunch
3.  Dinner
4.  Sometimes my thermos full of tea!
5.  Notebooks
I hope this helps you out when you're packing for a full day at school.  I would also love to hear what's in your bag! How do you guys do it? Post a pic and hashtag #whatsinmybag
HAPPY PACKING!