Written by Emilio Bernardo-Ciddio
---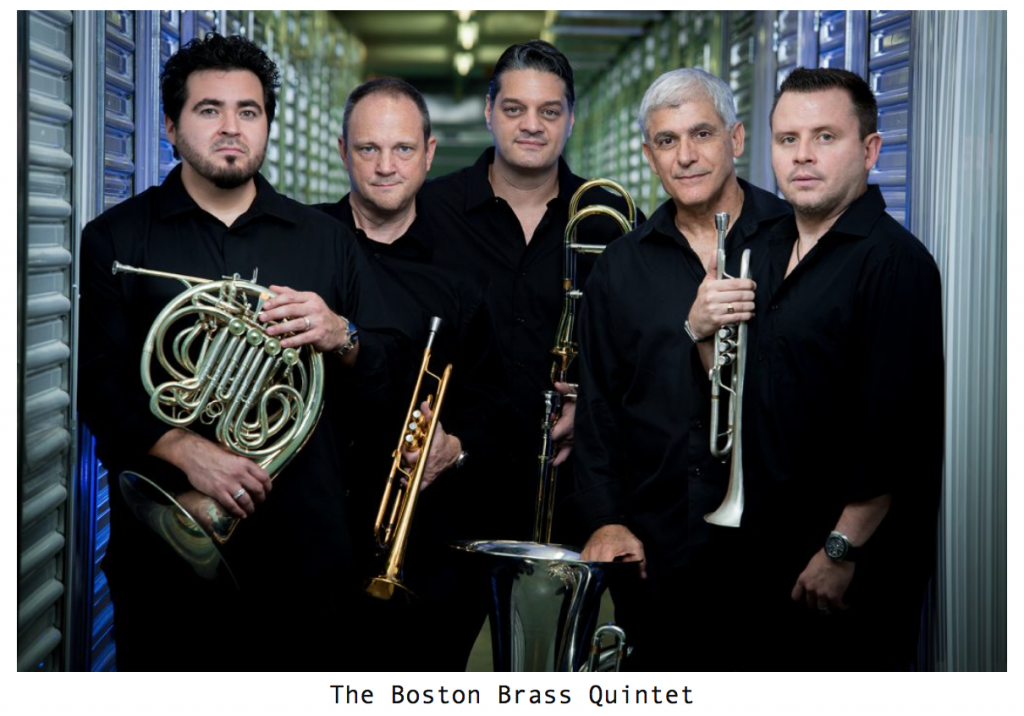 ---
From February 16th to 19th, the Hannaford Street Silver Band (HSSB) hosted their annual Festival of Brass, a Toronto-wide event that includes a plethora of masterclasses, performances, and workshops. Each year, guest performers or conductors are featured. In the 2017 edition of the event, the HSSB invited the renowned Boston Brass Quintet to participate in the events. On February 18th, the tuba player for the group, Sam Pilafian, gave a workshop on his famous Breathing Gym method.
Here's a bit more about him from BostonBrass.com…
"Sam Pilafian, tubist /arranger of the Boston Brass, is perhaps best known as a founding member of the internationally renowned Empire Brass Quintet (1971-1993). He has also recorded and performed with the Boston Symphony, the New York Philharmonic, the Orchestra of St. Luke's, the Metropolitan Opera Orchestra, the Duke Ellington Orchestra, Lionel Hampton, and Pink Floyd among others. Sam has performed and recorded on major labels as a solo jazz artist with Bernadette Peters, Barbara Cook, and his collaborative group with guitarist Frank Vignola, Traveling Light. His long career has earned him an Emmy® for Excellence in Instructional Video Production, the Walt Disney Award for Imagination and Innovation in Design, the Walter Naumberg Chamber Music Award, the Harvard Music Association Prize, the University of Miami's Distinguished Alumni Award, the Brevard Music Center Distinguished Alumni Award, the Robert Trotter Visiting Professorship at the University of Oregon and the annual Outstanding Teacher Award from Arizona State University. As an arranger, composer and recording producer, Sam has produced and written for Joseph Alessi (New York Philharmonic), the Empire Brass, the Boston Brass, the Brass Band of Battle Creek, Arizona State University Sun Devil Marching Band, the Academy (of Drum Corp International), and the United States Air Force Band. Sam is the coauthor, with Patrick Sheridan, of the best selling pedagogy texts and DVD's "Breathing Gym" and "Brass Gym". Professor Pilafian previously served for 44 years on the faculties of Boston University, the Tanglewood Institute, Berklee College of Music, Frost School of Music at the University of Miami and is Professor Emeritus at Arizona State University."
---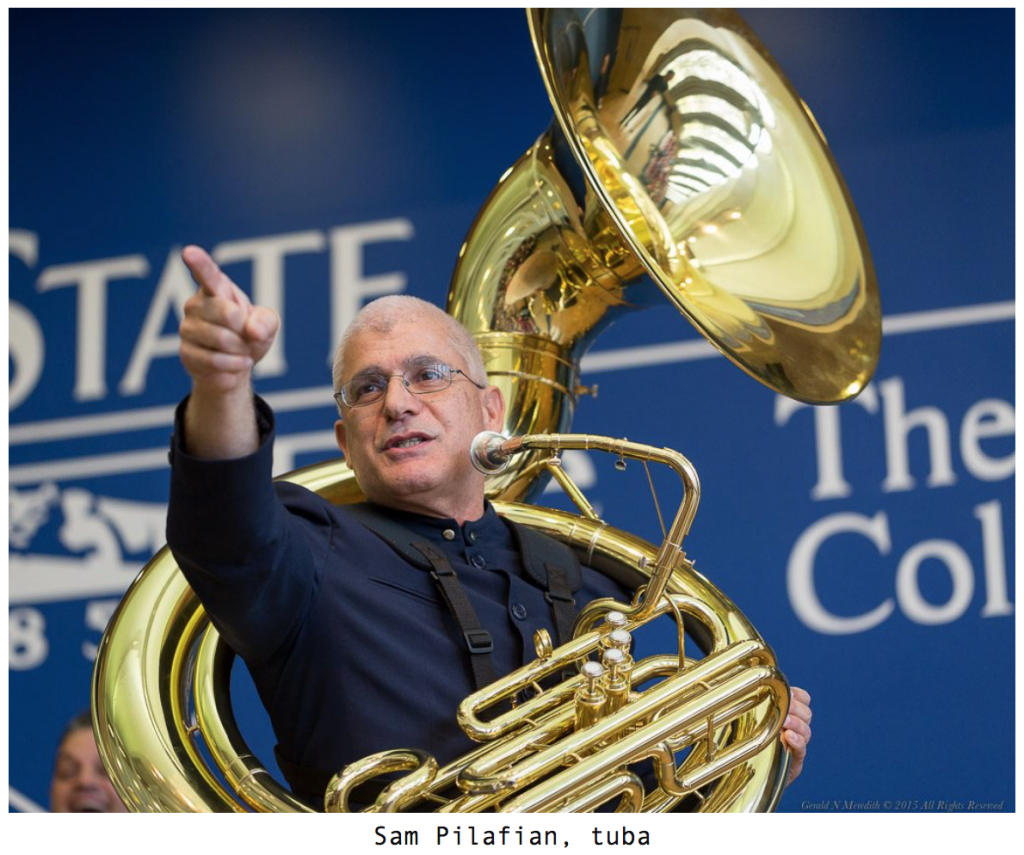 ---
Pilafian started his workshop by discussing the background and applications of his research with breathing, the body, and musical performance. He discussed his inspiration from Arnold Jacobs, his time with athletes and with the Blue Devil Drum and Bugle Corps for research, and how thousands of music programs have used this method worldwide with great success.
Pilafian discussed how musical performance is not about playing an instrument, it is about playing the body properly to produce a proper use of the instrument. He discussed relaxation and efficiency of the body, and preparing the body for more intense situations than will be necessary as a musician in order to be completely prepared for any playing situation. Pilafian chose three things as central to professional musicianship: a great ear, a great wind chamber, and great technical knowledge of your instrument. He introduced the concept of the Kinetic Pathway, which is a unification of knowledge and application achieved through proper practice.
Pilafian spoke about intention and passion in music, often saying that to truly achieve in music, you must love it unconditionally and it must become not just something you do in your day, but the framework for your lifestyle. Self control and motivation are central to building a musician, and adhering to his framework for practice days promotes good routine habits. Pilafian stated that every session should begin with one exercise from each of the three categories of his method. This includes: one stretch with deep breathing; one 'therapy' or more athletic style breathing exercise designed to move your maximum air capacity and expand the lungs; and one aural skills application, whether it be sight singing, listening, or ear training. He also advised that for every 10 minutes of a playing session, you should take a 2 minute break to do a breathing exercise and some aural practice.
Pilafian expanded on the concept of listening considerably. He discussed two forms of listening: passive listening, where we listen to music throughout our day while we do other things; and active listening, where we sit down and focus on an hour or more of music, which should happen a few times a week at least. He advised that we close our eyes and try to track each voicing or instrument throughout a piece and listen to it over and over until we can pick out and follow everything that is happening. He suggested making a project of listening to the greatest music in classical history, including the Beethoven, Mozart, and Haydn symphonies. To connect it back to breathing, he suggested to breathe along with each voicing, too. Professionals probably breathe better than we do, so if you can match and learn from their breathing, your own will become more musical, efficient, and functional. Pilafian made a few statements here that are important: If you can get a hold of your breathing, you can get a hold of your performance; good air will make you want to play and listen to great music; if you don't have to worry about your breathing when you play because you've trained yourself so well, you can focus on the parts of performance that create beautiful music (ie. shaping, phrasing, tonal colour, etc.).
At this point, we all were asked to stand and participate in the applied method. We first learned about body tension by engaging as much of our muscle system into tension as possible, and then immediately releasing and relaxing completely to promote a habit of identifying and releasing tense areas of the body. Next, we went through the six balance points of the body (ankles/feet, knees, waist, spine, shoulders, neck) and used specific motions to find our "centre balance point" in all six areas. This reduces the amount of effort and muscle use needed in order to stand or sit at all, and maximizes relaxation of the body and breath.
Pilafian spoke about the quick breath concept. In music, we must use at least 90% of our capacity to play with good air. He suggested that 95% of air should be attainable in one beat of breathing, and the last 5% could be taken in if there's time. In order to practice this, we used a four beat breathing pattern where we took in 95% of air, then 5% extra, and then blew out twice in the same amounts. We also added extra sips during repetitions to expand lung capacity. Moving on, we went through several breathing techniques. In the therapy category: big breath in, two sips of extra air while raising arms above head to stretch torso, then eject air the same way, adding a sip with ever repetition; bow and arrow breath; slow and timed breathing in and out start at four beats while raising arms in a "jumping jack" style, adding on a beat in and out with each repetition; and, finally, breathing in and out in a timed fashion of different note values (ie. one in/one out, two in/two out, eighth in/eighth out, four in/one out, etc.) until light-headed.
Though we did much more than all I mentioned above, most of the session was done on our feet, so I wasn't able to write and remember everything after it finished. Despite that, what I did get to remember and write down is a lifetime's worth of work. I'm hoping to purchase the full method to complete my understanding of Pilafian's work. If you'd like to purchase it too, follow this link!
For more information on future Hannaford Street Silver Band events, or for information on their youth education programs, see the following links!
http://hssb.ca/
http://hannafordyouth.ca/