Written by Emilio Bernardo-Ciddio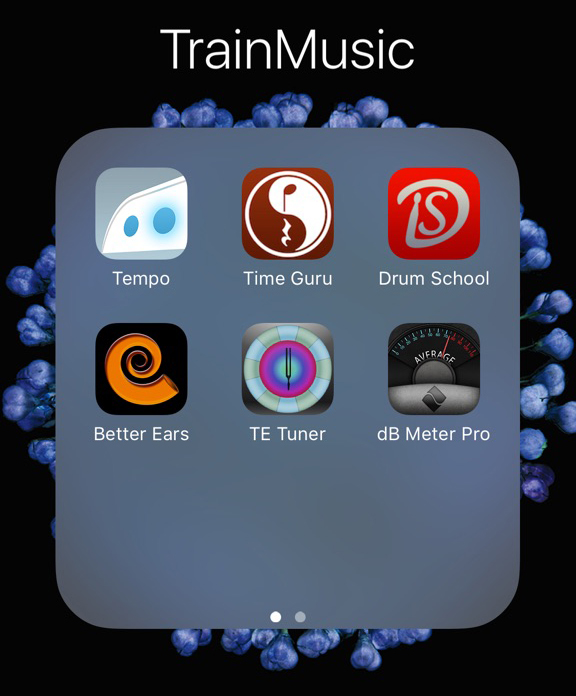 TEMPO ($1.39) – Developed by Frozen Ape. Every musician needs a metronome app, and Tempo is simple, user-friendly, allows for sub division and set-lists programming, and is very reliable.
TIME GURU ($2.79) – Developed by Avi Bortnick. Time Guru creates gaps in the beat to help train your inner pulse. For example, if you have the metronome set to 4/4 time, the metronome will randomly mute one of the beats every measure. You can choose how frequently beats are muted(in percentage), and you can also set the app to mute more beats over time. This app is excellent for improving your time and inner pulse, and promotes having a constant groove.
DRUM SCHOOL ($7.99) – Developed by Ferenc Nemeth. This app is designed to teach percussion fundamentals and drumset skills, but it's also perfect for training musicianship and learning to keep a constant groove. You can choose from dozens of drumming styles to play along with including, salsa, hip-hop, world music, and more.
TONAL ENERGY ($3.99) – Developed by Sonosaurus LLC. Everyone needs a tuner, and this one is our favorite. This app allows you to visualize where you fall on the intonation spectrum, it can transpose to different keys (perfect when working with transposing instruments and beginners), and you can choose different instruments to play drones in all registers. It also has a built-in metronome.
BETTER EARS ($14.29) – Developed by appsolute GmbH. Better Ears is a an ear-training app the helps improve recognitions of intervals, scales, pitches, tempos, chords, chord progressions, single notes, scale music reading, chord music reading. This app is great for the time you can't practice but still want to train; perfect for use while traveling or commuting.
DECIBEL METER PRO ($1.39) – Developed by Performance Audio. Decibel Meter Pro is an app that helps track your sound output.
TUNABLE ($5.49) – Developed by AffinityBlue. Tunable is a chromatic tuner, tone/chord generator, metronome, and recorder that helps you learn to play steadily, in tune, and on beat. Featuring a unique "tuning history" display for visualizing pitch over time, Tunable is the perfect toolkit for beginning to professional musicians.
CLEARTUNE ($3.99) – Developed by Bitcount Ltd. This is a simple and easy-to-use tuner and tone generator with a nice big display that is easy to read from a distance (even on your phone). It also offers a variety of pitch and temperament settings – with custom presets – which can be handy for those who frequently have to switch between modern and baroque instruments, for instance. Several readers praised its ease of use for beginner-level students.
PETERSON ISTROBOSOFT TUNER ($12.99) – Developed by Peterson Electro-Musical Products, Inc. This comes from a company known for its strobe tuners (said to be the most accurate and precise type of tuner). It is sensitive to a wide range of pitches (the whole range of a harp, for instance), has an input boost (iOS only) if you want to use an external mic, and also includes a noise filter (iOS only) so you can tune you, not the other folks sitting around you in orchestra. However, the strobe display may be a matter of personal taste. Some love it, while others find it to be distracting.
Sources:
http://bostonbrass.com/music-training-apps/
Android and Apple App Stores