Interview with Bianca Trulli, the Artistic Director of Echo Dance Company. Interview conducted by Victoria Gubiani.
I had the opportunity to sit down and pick at the incredible brain of fourth-year BFA Dance student Bianca Trulli as she makes her journey in starting up the performance company Echo Dance Company. Born and raised in Ancaster, Ontario, Bianca began her love for dance at the young age of four years old. After many years of training, she has developed an understanding and appreciation for the arts, which has allowed her to diversify her techniques and movement. She has trained in all disciplines of dance and has performed in shows ranging from Fresh Blood to the Young Choreographers Festival, and with companies such as Nostos Collective and Point of View Dance Project.
Tell me a little bit about Echo. What made you want to start up the company?
I wanted to create a starting point for younger artists where they can have somewhere to go right after secondary school or undergrad – whenever they want their career to start. I wanted to create a bridge, a pre-professional company to go into that is treated as a professional company. Being a versatile dancer is very important to me and so with Echo I wanted to incorporate different elements and infuse them. Even if you aren't a versatile dancer and you wanted to learn more things I would take you in and challenge you. I would see the dancers who have that passion, that motivation to try different styles. I would take them in and help them.
So it's very passion oriented?
Yes. It's about getting out of your comfort zone without having to take classes beforehand to learn those styles. In some classes where I teach younger kids for example, I'm teaching them how to freestyle in hip hop. So I ask them, "What's your favourite style of dance?" And they say, "Well I'm really good at tap." So I say, "Ok, add some tap elements to your hip hop free style." They show me a tap move and I help them transform it to incorporate a hip hop groove. I try to bring this into Echo: here's a movement, now what else can you do with it? And if you feel uncomfortable, think about how you would do it in a way that you were comfortable – incorporate your style.
Have you always wanted to start a company?
No. I've been a part of a company and I watched and I learned a lot. What to do, what not to do. I love the performance aspect. I don't actually know how I wanted to start a company, but I knew I wanted to put on a show. I wanted to showcase my choreography. I've always been passionate about choreographing as well as performing, so it was kind of weird making that big decision: I want to put on a show.
That is a pretty big decision – putting on a show while you're also in school and doing your studies. How is balancing school work, while also putting on a show and dancing in a company that isn't yours?
It's very stressful. Time management! There's a lot more to just choreographing the routines, you're putting on a whole show: graphic design for the programs and the posters and the postcards. Ticket sales: how are you going to sell the tickets? The show order! The show order is very hard. It's a huge puzzle and you just have to piece everything together, which for me right now is a challenge. Choreography at first was a little hard because I found everything was beginning to look the same. Thankfully I had outside choreographers come in and help (Rebecca Zizek and Jessica Lowe). This gave me a break to observe and be an outside eye, get inspired. Oh my god and when the lighting comes in! Brenda (stage manager) is friggin' awesome.
Brenda is in the theatre program here at York right? So you collaborated with another department?
Yes! And she knows how to do all of that production stuff that I didn't go in to.
Awesome! So what are your plans after you graduate? In terms of Echo, do you see the company going anywhere? Will you continue it? And if so, how will it grow from what you've learned?
I would love to keep Echo going. At the same time, I want to keep it in perspective and be realistic about it. A lot of it has to do with money. If I want this to grow in to a professional company I need to seriously think about how I'm going to pay everyone and for everything. I used this year to figure out if I'm mentally capable to create a show. I wanted to do it in school with the guidance of my professors, which I wouldn't have if I had waited until after I graduated. I'm glad I'm doing it now to smooth out all of the bumps along the way.
So your plans after you graduate… are you going to continue to dance?
I love dancing! If I do continue Echo I would still want to perform, but outside of it. I love performing – the adrenaline!
What have you learned from this so far as an aspiring artist?
I've learned how to manage my time, to really be organized: scheduling your dancers to come in but then scheduling to have choreography set before they come in so they have something to do. I set deadlines for things to be done for myself.
Did you know that this is what you wanted to do in first year?
No idea! I thought I was just going to dance and teach at my studio. I knew I wanted to dance professionally but I didn't know where. Actually, in first year I wanted to move to Los Angeles after I was done. I wanted to be a big Hollywood dancer…but now that has definitely changed. I would still love to train in L.A., but I don't think I would actually stay there. That's not really my scene.
First year can be a pretty intimidating and overwhelming experience. Do you have any advice for interested students looking at the dance program, or who are entering the program?
Just throw yourself into things! Get involved! I remember auditioning for everything and being super intimidated. But once you're actually in there all of that goes away and it's worth it. It sounds corny, but once you start dancing and doing what you love, those nerves disappear. Somehow. Don't overwhelm yourself, but make your time here enjoyable. Do things in school and outside of school. If you come into a dance program I would assume you would be training for some sort of dance career. You really want to take every opportunity offered in school (and the dance program offers plenty!) because once you get out of school you need those connections. You're on your own after university. Be serious about every audition and take something from each one. Take every opportunity!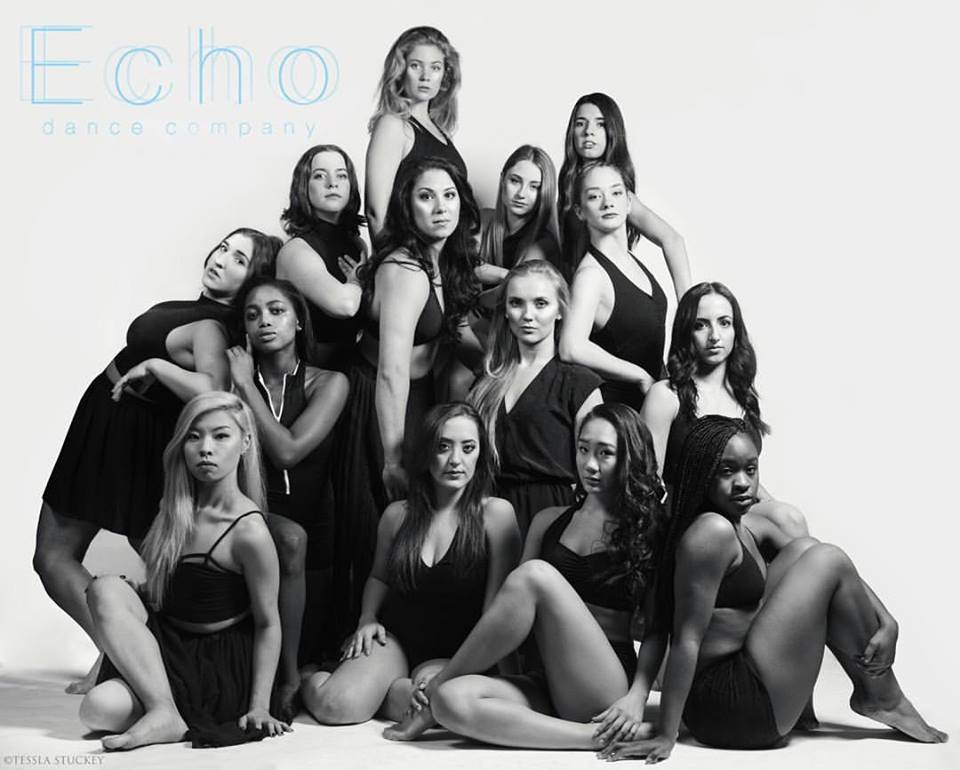 The dancers of Echo.
Echo Dance Company premiers their first showcase of works with choreography by Bianca Trulli, Rebecca Zizek, Jessica Lowe and an apprentice piece by Christine Laska with dancers from CM Dancing, March 23-24, 2016 at the Winchester Street Theatre in Toronto.
Check out Echo's Facebook page, and follow them on Instagram.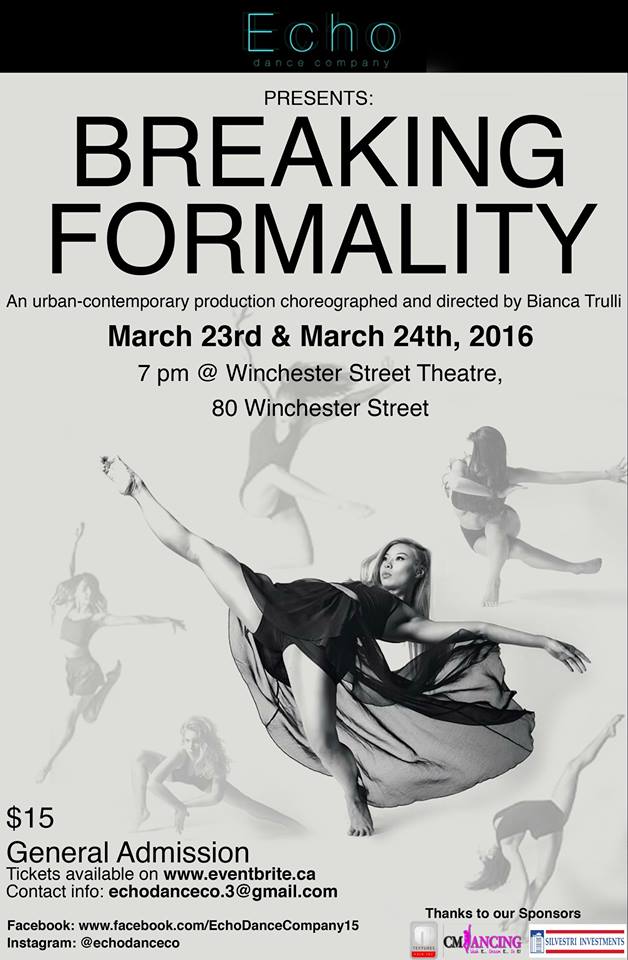 ---