An interview with Zachary Wyeld, a fourth-year Film Production major and the director of Don't Let It Out. This interview was conducted by Mazna Ahmad.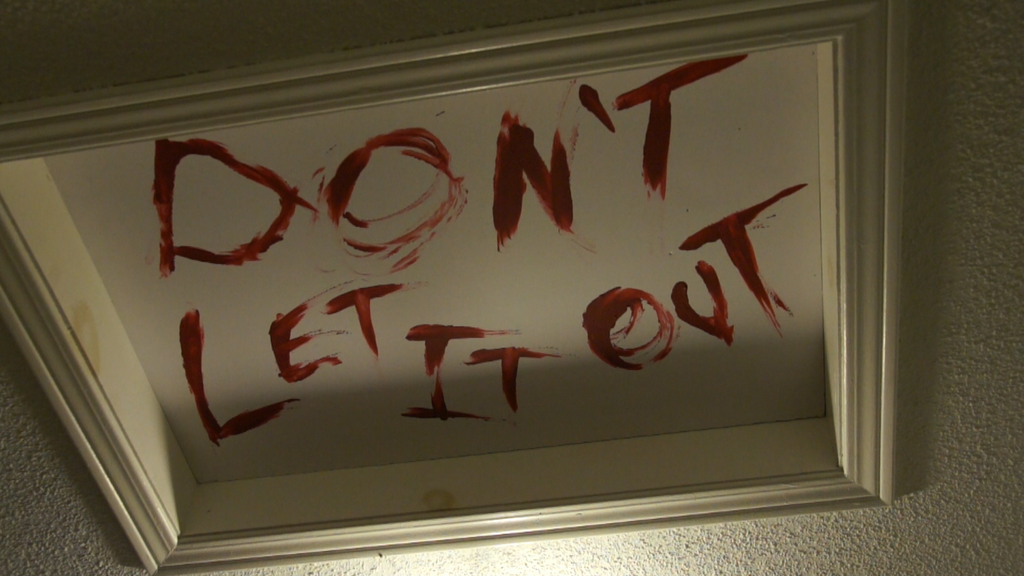 What inspired you to explore the complicated world of an abusive relationship?
For the first decade of my life I witnessed a fair amount of domestic abuse and, since then, I've always wanted to make a film that explored what happens when a couple gets married and they're too young and they're not right for each other. The inspiration for this film came when my brother joked about writing "don't let it out" in something that looked like blood on our attic door. We were about to move so he wanted to play a prank on the new owners. I thought it would be interesting to make a film where the new owners of a home find that message and see how they'd react if they really did let something out. When I was brainstorming, it made perfect sense for the new homeowners to be a young couple in the midst of an abusive relationship. The ideas just clicked.
Did any films serve as an inspiration for Don't Let It Out?
I didn't watch any films about spousal abuse for inspiration, mainly because I already felt like I'd seen enough of it in my life. From a horror perspective, I looked at several films featuring demons and haunted houses, namely: Paranormal Activity, Insidious, Amityville Horror (1979), The Changeling… I'm a horror lover so a large body of work influenced this film.
How long was your average day on set?
The average day on set was roughly 12 hours. We shot over the course of 3 nights on a long weekend and the final night was about 15 hours.
What kind of environment did you keep on your set to achieve the creepy atmosphere of the film?
Because of the dark premise, I didn't want the set to be as creepy as the film and put everyone into an unhealthy mindset. We actually cracked a lot of jokes in between takes and only got serious when we felt the jokes were distracting everyone from doing their job. I recall Morgan O'Brien, who plays Cassandra, singing Frozen's "Let It Go" quite a bit, too.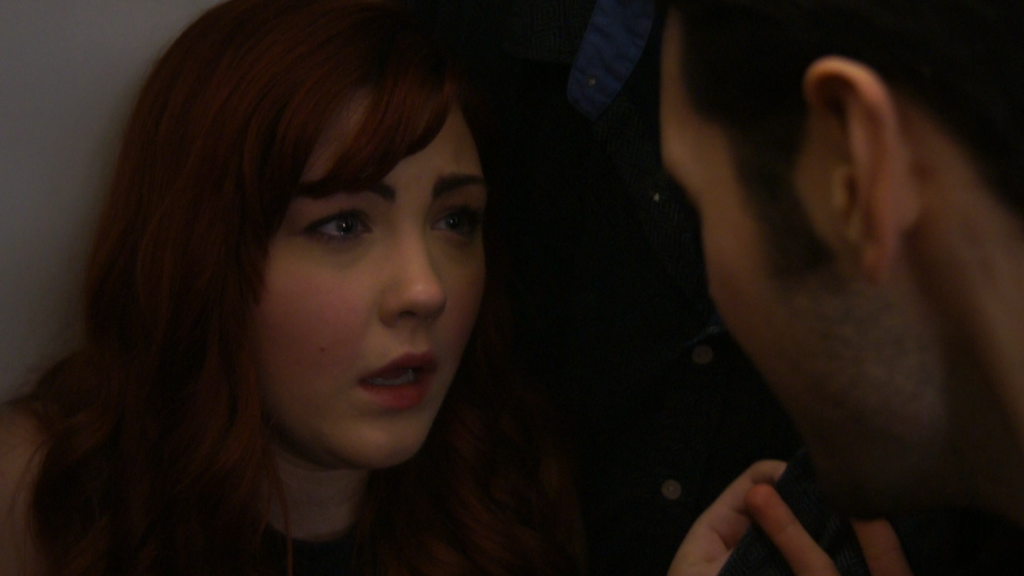 What makes a film truly scary?
A film is truly scary when you walk out of the theatre or turn your TV off and you can't help but feel that whatever terrified you about the film is still in the room with you. This is the same with any film or genre of film; if the film's presence lingers long after it's over, then it has affected you.
Your film plays against the tropes of horror, where the helpless female character tends to fall victim to the monster. Cass fights against her tormentor and escapes. Were there other tropes from the genre that you wanted to play with in the film?
I actually wanted to explore Cassandra's virginity and the trope that the virgin always survives – anyone who's not a virgin usually dies. Sex scenes are of course very complicated, especially for a student production, which is why I didn't. But the elements are still there. It's implied that Cassandra and Will make love (although there's a good chance that they've already done it before the events of the film) and Cassandra manages to stand up to the monster despite that fact, but I'd really like to do more with it.
When it comes to writing, did you feel horror was harder to capture on paper than on screen, or vice versa?
It was as difficult to capture the horror on the page as it was on the screen. There were things I knew I wanted to include that would terrify me, such as the empty closet that Cass is forced to stare at, but I wasn't sure at either stage whether or not they would be effectively terrifying until we got to the edit room.
Would you be interested in making Don't Let It Out a feature film one day?
I am currently working on expanding Don't Let It Out into a feature film, which will delve further into Will and Cassandra's relationship and why it's doomed to fail.
Where can viewers access Don't Let It Out?
Currently, it is available on Amazon Instant Video in the US. Shami Media Group has releases planned in other countries.
What tips do you have to pass on to those venturing onto the path of directing?
If you tell a story that's personal to you, your film will find an audience.
Find more information about the film here.
---